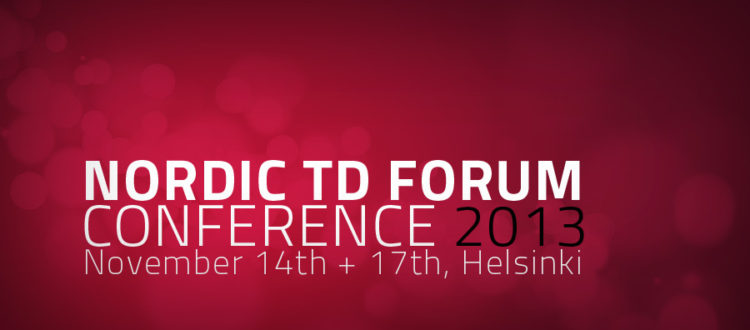 NTDF 2013 will bring us back to Helsinki, Finland.
We all look forward to spending dedicated days in the calm surroundings of Hanasaari, just outside Helsinki. Very close to Rovio Entertainment actually… maybe some wants to drop by for a visit!
For details on NTDF program please see under NTDF 2013 Program (will be released Friday 13/9-13).
Sign-up will open shortly. Please put down the dates as soon as possible.
Important dates for NTDF:
Master Classes (MC) – November 14th and 15th (09-17.00 Thursday, 09-12.00 Friday)
Role-Play – November 15th (13-19.00 Friday)
Nordic TD Forum (NTDF) – November 16th and 17th (09-18.00 Saturday and Sunday)
Producers' Forum (PF) – November 16th (09-18.00 Saturday)
Additional date to remember:
SyssGraph – November 13th (details will follow later – please note, SyssGraph is a separate sign-up, it is not included in NTDF)
Again in 2013 we will open up for Master Classes.
Through studio interviews and target audience surveys we have received clear indications Master Classes were effective and productive. Participants have expressed profound interest in attending new Master Classes and we for sure, take up the challenge.
Master Classes (MC) are "hands-on" workshops. Each participant – max.15-20 participants per class – sits at their own workstation and performs specific tasks themselves. Under supervision by the best of the best from the international CG industry. MC handles specific tasks, problems, and challenges encountered during production.
Last year's Master Classes were – according to our international speakers – unique in the sense that never before had that kind of public hands-on work shops been offered to the industry. This is definitely something we can be proud of 🙂
For details on MC program please see under NTDF 2013 Program (will be released Friday 13/9-13).
As something special in 2013 we will introduce Producers' Forum.
Producers' Forum (PF) will run parallel with NTDF but only on Saturday, we urge producers to stay on through Sunday and join the rest of NTDF program.
The purpose of PF is to create a playground for CG producers to meet and network across studies and countries, in the same way as NTDF creates a platform for regional TDs to meet. To co-host PF along side with NTDF at the same location will further encourage and enhance CG producers opportunities to see and learn from the technical side of CG productions, something everyone will benefit from. PF and NTDF will be sharing sessions (e.g. keynote and eye candy sessions) as well as having separate sessions, where each group focus on specific issues relevant to that particular audience.
For details on PF program please see under NTDF 2013 Program (will be released Friday 13/9-13).
With an audience of both Technical Directors and Producers we can start talking some serious optimizations of work flows – and this is in fact the core idea behind NTDF!
Looking forward to welcoming you all.
Irene Sparre Hjorthøj
Co-Founder and Facilitator
Nordic Technical Directors' Forum